If you've kept up with our blog you already know that we do these DIY Corner posts periodically and feature guest writers from Forsyth Realty Group, because we believe our help doesn't stop when they hand you the keys to your new place – we want to be there to help turn that house into your home.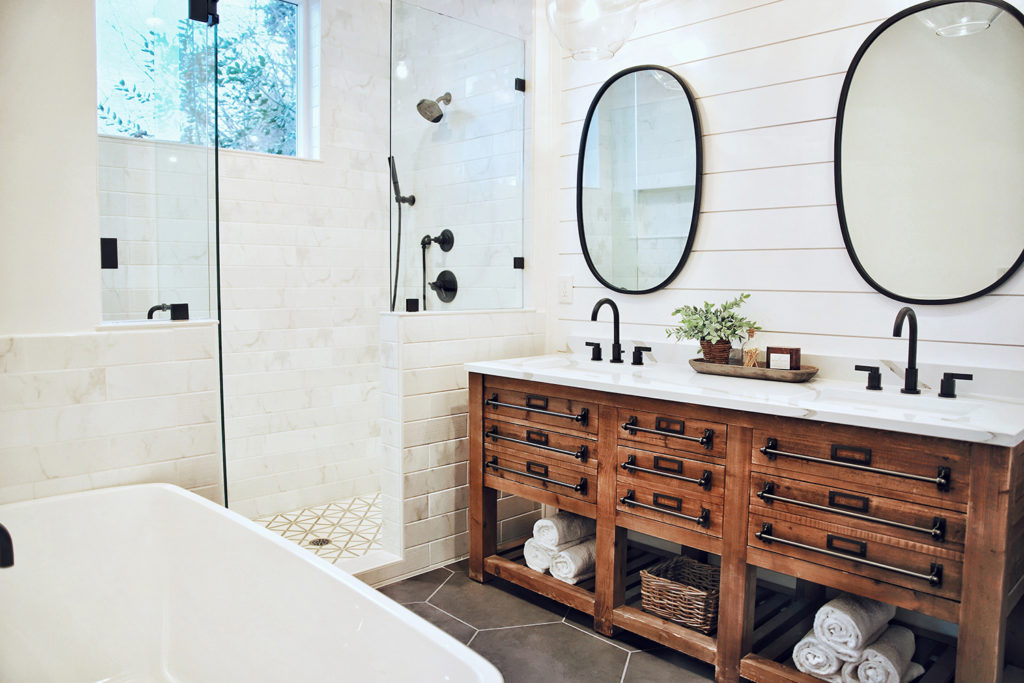 This month's DIY is a bathroom remodel!
If you're like me around the holidays I don't want to spend more money than I have to and the budget gets tighter. But also around the holidays… we get time off at home and the weather is cold keeping us indoors and we sit looking at the house projects we wish we could do, but don't know where to start.
Well, lets keep the budget small, and still complete those projects! When it comes to the bathroom there are three big changes that can make all the difference in the world.
The first is the WALLS.
Be it old fixtures or old paint, you can come in and change the entire feel of a room when you change the walls. Paint is the easiest and most effective way to transform a room. Choose colors that reflect a calm mood or make you smile. Studies have shown that the average person will spend over 2 years in the bathroom over a lifetime. That's a ton of time to not like what you're looking at- so pick colors you love! Check out these color ideas at Sherwin Williams.
If you don't wish to use paint, there are wallpaper or shiplap wall coverings. Lowes offers precut shiplap and even instructions for how to properly install it. As for wallpaper, try not to think of the rooms we all remember in the 90s that had bowls of fruit on it– haha. Updated wallpaper is available in so many styles and patterns you could spend days searching through the varieties! Check out this link for thousands of wallpaper options! For more examples of wallpaper feel free to reread our blog on kitchens. (Keep in mind these options are both more pricey than paint usually, so if you're tightening the budget proceed cautiously with these, or wait for black Friday deals or big sales.)
Finish off the walls with art, shelving, or colorful accent pieces.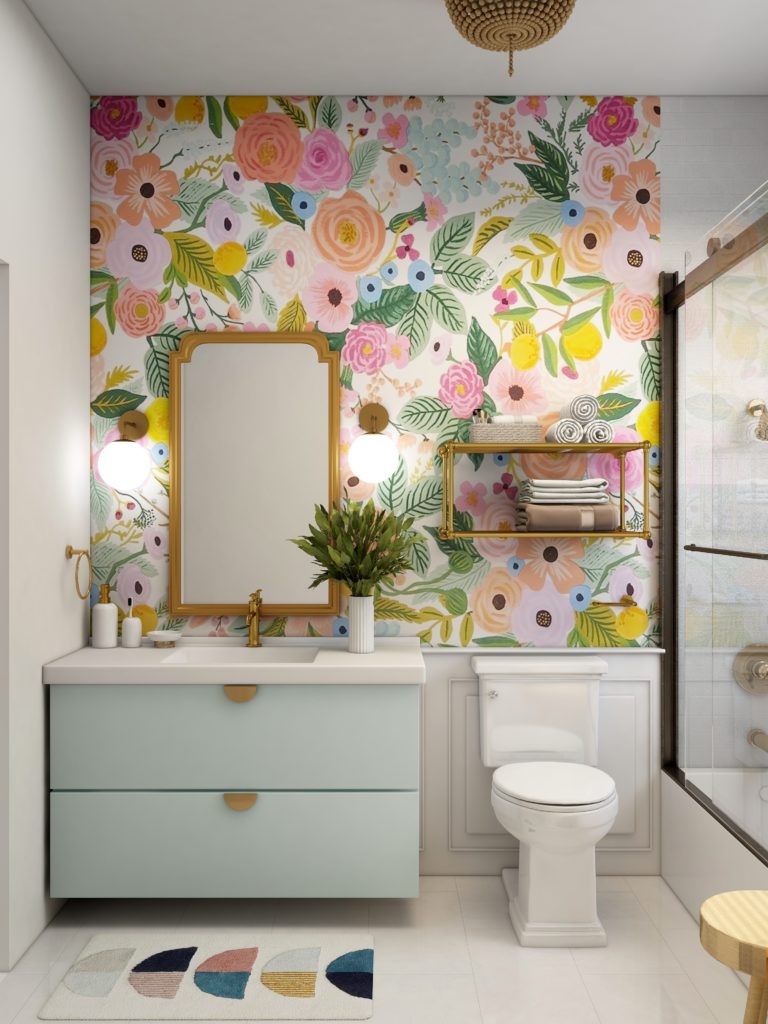 Next lets talk lighting and fixtures!
Lighting is a great opportunity to use creativity and really change the look of any room. Check out these ideas for all different types and styles. When it comes to fixtures and storage remember less is more. Bathrooms can be very small and making the best of your space is not only practical but it changes the entire feel of a room.
When things are cramped or feel cluttered our brains typically have a hard time winding down and getting to a peaceful place. Try and choose fixtures that fit the space but also don't take up a ton of room. If your floor space is very limited try a pedestal sink, and open storage on the walls for keeping extra items. If you have a ton of floor space maybe choose the large two sink vanity as a statement piece. Again, if you're keeping costs low these items might need to wait– but look for end of the year sales or clearance events as they typically happen this time of year.

Lastly, fabrics and rugs!
This part can really be fun and bring color and life into any space! Keeping with the design you already have find rugs, curtains, and window treatments that all go together cohesively. Everything doesn't need to be super matchy matchy but bring out colors that will blend well with the feel of the room. Here are a few great ideas! Sometimes choosing a vibrant shower curtain and then building the rest of the bathroom around that can be a great idea! But regardless of your style choose quality items that bring you joy.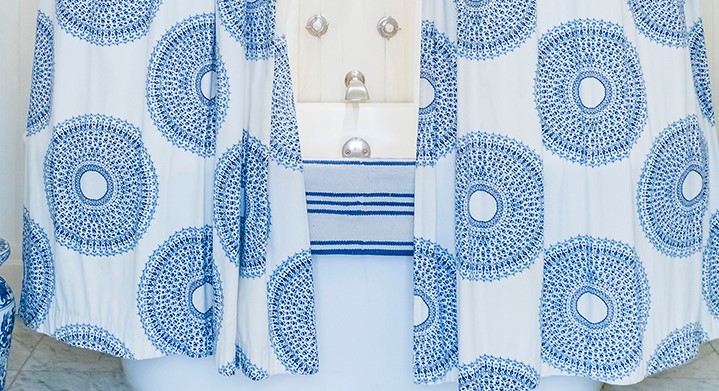 And finally, the budget— plan ahead and don't buy anything before you make the plan. Here are some resources for keeping the costs down:
How Much Should Your Bathroom Renovation Cost?
15 Inexpensive Bathroom Remodel Ideas
Before-and-After Bathroom Remodels Under $5,000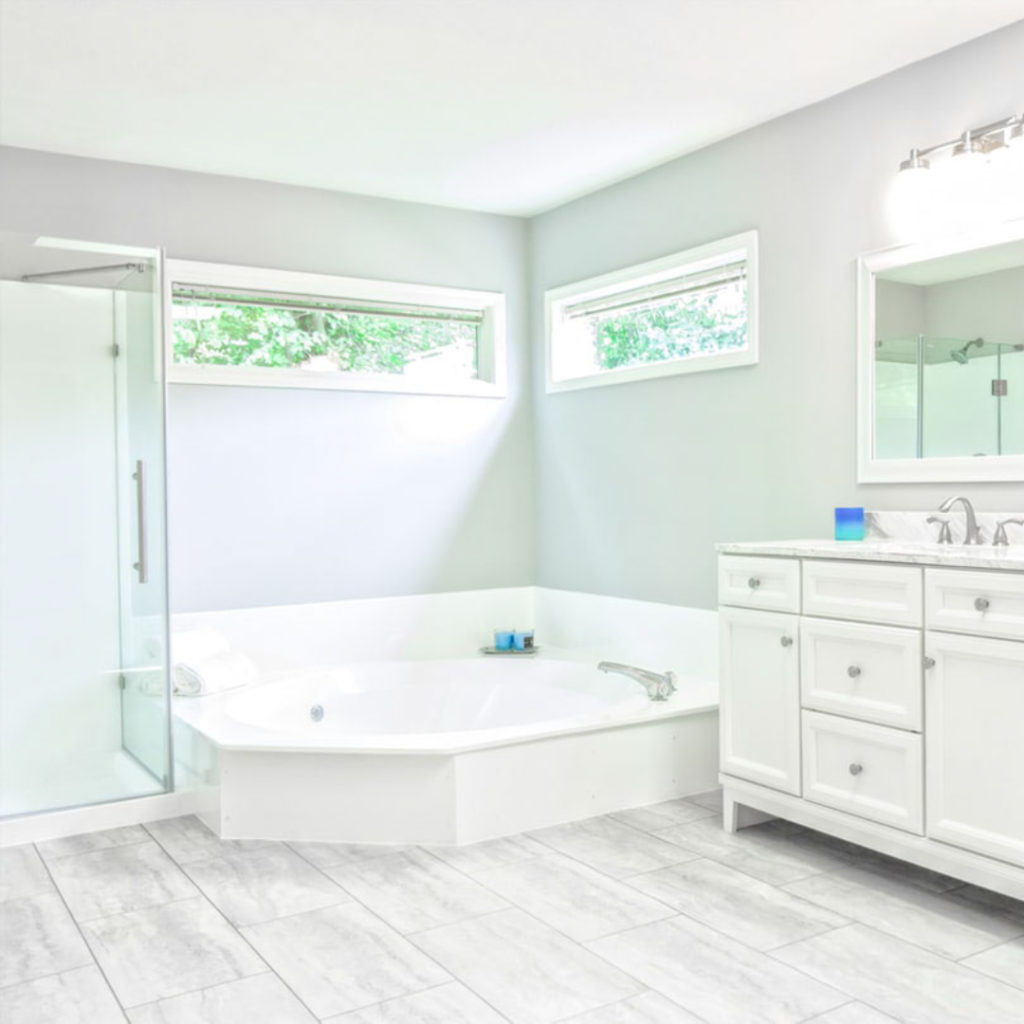 Have Real Estate Needs?
Thinking of listing your Winston-Salem home? We can help! Contact Forsyth Realty today to learn more about how we can help you price your home accurately, get it looking fantastic, and list it for top dollar.